Torrent pirates everywhere are going mad due to pirate sites being blocked. However, thanks to PirateSnoop, this is avoided!
From Chrome to Safari and every browser in between, pirate sites are being blocked. Several pirates utilize a VPN connection in order to bypass the wall preventing them from accessing their goodies.
The newest Fad going around recently is the blocking of torrent sites. People from Europe and even USA are becoming victims of censorship from websites, and a vast majority of the sites are holding torrent files. In the battle of blocking users to gain access to torrent sites, another website has stepped up onto the field, RARBG. RARBG is one of the most commonly used torrent sites on the internet, and they just launched PirateSnoop. PirateSnoop is a free web browser in which is designed to easily skirt any web blockages across the world.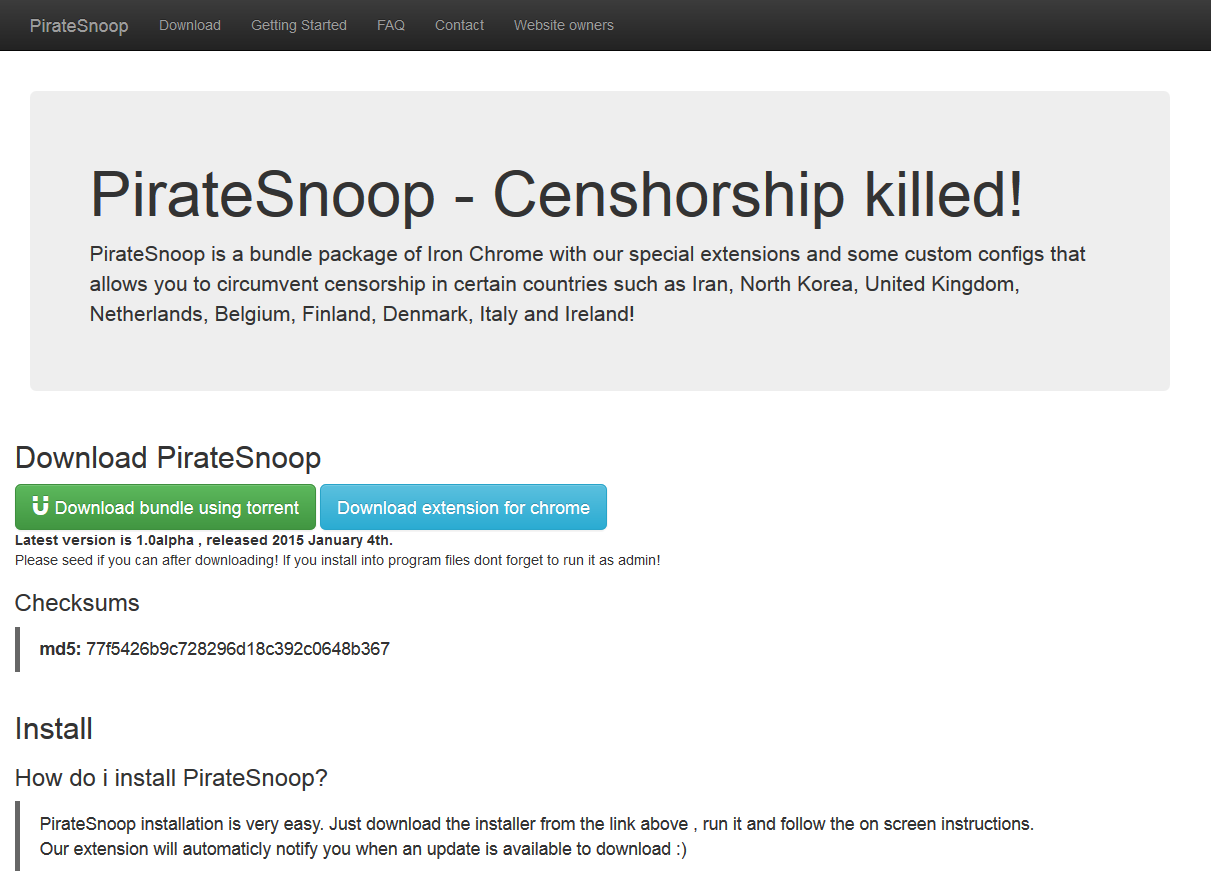 With the exception of the famous OldPirateBay, there are no major sites in which can be directly accessed from European countries any more. OldPirateBay is enjoying the exclusion as the site is still relatively new. Even in America the MPAA is working hard in order to introduce their site-blocking mechanisms. This would be done by invoking creative interpretations of what is known as our currently existing law. It does appear to be unlikely that Hollywood as well as music companies will stop all productions until they get it done their way. However, all of this hype has shown evidence of more and more users will have to prepare for a world smothered with censorship, that is if they choose to utilize the internet in the near future.
However, there is always loopholes in every system, you just have to learn to find them. While the censorship seems to normal for users at this point in time, there will always be several ways in order to get freedom from 3rd party services. While utilizing a VPN connection system, people are always searching for the best free alternatives. And for those users, RARBG has launched their new web browser to aid in the connection of pirated sites.
In the appearance of the browser it looks identical to the Chrome web browser, except there is a pirate flag nested on the right hand side of the address bar. PirateSnoop is actually based upon the web browser "SRWare Iron" in which also aims to provide elimination of some of the known privacy-compromising features in which is present inside of Google Chrome. PirateSnoop is the augmented with special extensions in which allows you to enable the site unblocking features.
As the rise of censorship, RARBG has grown to become the world's 7th and most popular torrent site. RARBG is a force in which is not to be reckon with. As the popularity of RARBG came, so did the blockage of ISP. ISP (Internet Service Providers) have been enforced by their respective countries to block content. And ISPs decided not to fight back in any of the blocking court orders.
There are alternatives in which exists such as PirateBrowser that provides the same goal in the end. The Tor Network is a common alternative, until recently when the Tor Network started to have increasingly blocked by major torrent sites. When looking into the Tor Network, we have seen the people abusing the Tor Network. Such examples in which exist is uploading false, or fake, torrents. DMCA agencies are also utilizing the Tor Network in order to scan sites. Thus resulting in Tor not being an option any longer to gain access to torrent sites.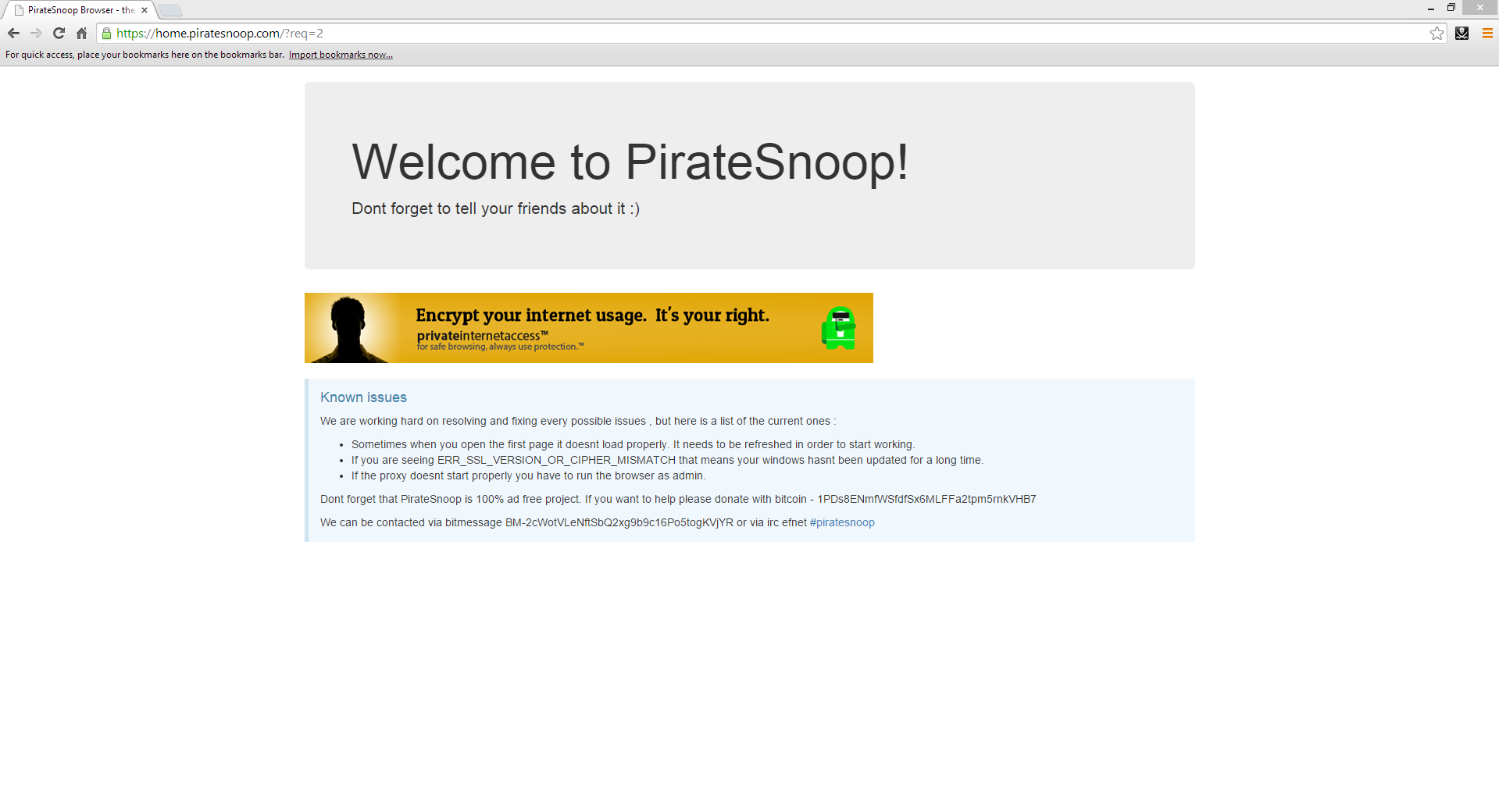 Instead of utilizing other proxy settings, PirateSnoop has integrated their own proxy network that utilizes a full HTTPS instead of the traditional HTTP that traditional basic proxy servers use. Just like you can find on any normal web browser, PirateSnoop allows websites to see their users IP address in order to cut down upon the online abuse of torrents. The best exception to masking, or hiding, your IP from sites is to purchase a legal copy of a VPN service such as Private Internet Access.
As of this point in time, there are many blocked sites in which are supported by the new browser, with certain omissions. The team that developed PirateBrowser has confirmed that they are committed to upgrading the browser and any site in which has requested to be added will be added immediately without any questions asked.
Naturally, I had to give this a test run. After downloading the torrent file, which held only 6 seeders with 140 peers, I was able to install PirateSnoop. After the extraction of PirateSnoop, I learned that you had to navigate to the extracted folder in order to launch the web browser.
With anticipation, I began to go to specific websites which includes ThePirateBay.org, KickAss.to, Torrentz.eu, and even RARBG.
Sure enough to my surprise, when using PirateSnoop with my purchased VPN I was able to access all of the sites with ease.
You can download your copy of PirateSnoop from the links below;
Bundle Torrent Download! Chrome Extension!
If you are downloading the Torrent file, you will need a torrent downloader;