Friendship doesn't have boundaries and today's heartwarming story is going to prove that. Our story starts with a family who decided to save a 3-day-old kitten by adopting her. The family wanted to document the kitten's growth and to make things even more interesting, they decided to give the kitten a friend to keep her company and you won't believe who it is!
20. Meet Koma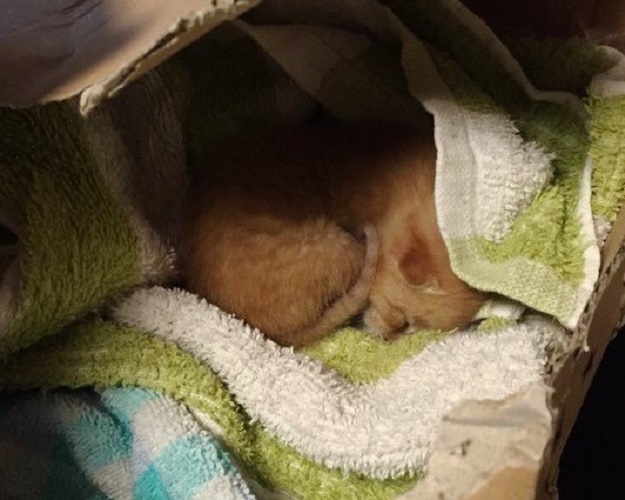 lovemeow.com
This little kitten is called Koma and she is just three days old in this picture. A Japanese family saw her on the streets and decided to give her a chance at life by taking her in. They wanted to make sure that Koma didn't get lonely and they gave her this friend!
19. Best Friends with Ultraman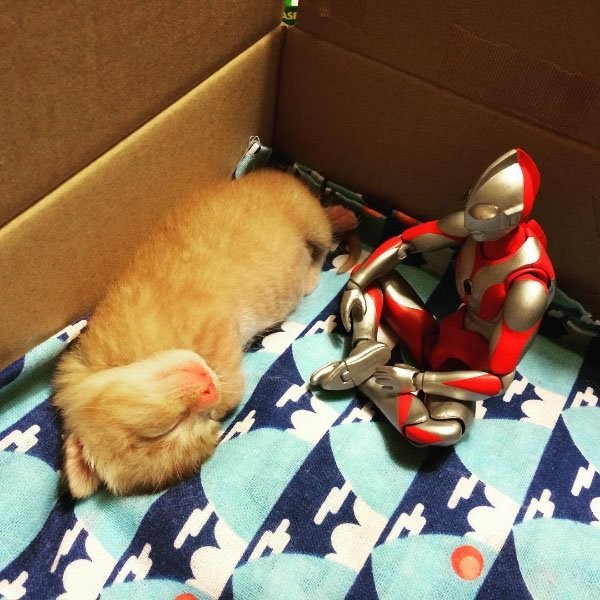 lovemeow.com
The Japanese family introduced Koma to an action figure of Ultraman and the most amazing thing happened, Koma loved having Ultraman around. Don't believe me? Then check out the next picture and see for yourself.
18. Keeping Watch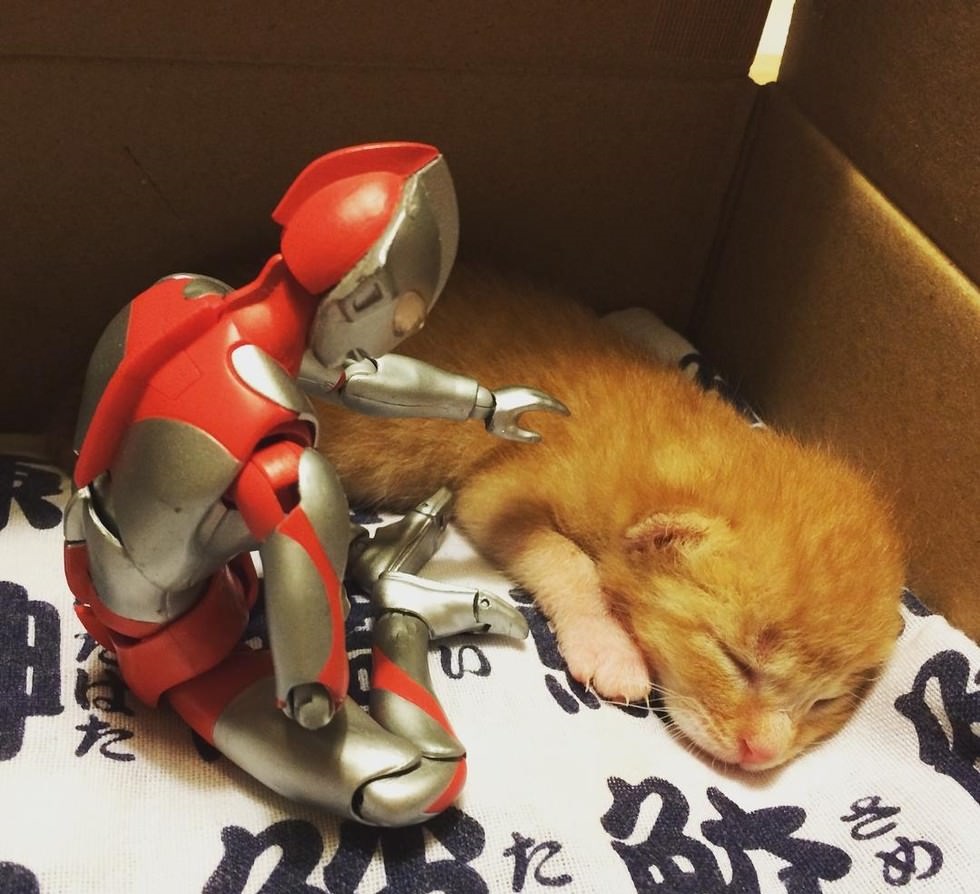 imgur.com
Koma felt safe around Ultraman, especially since he watched her while she was asleep. But why did the family introduce Koma to Ultraman?
17. Lonely Kitten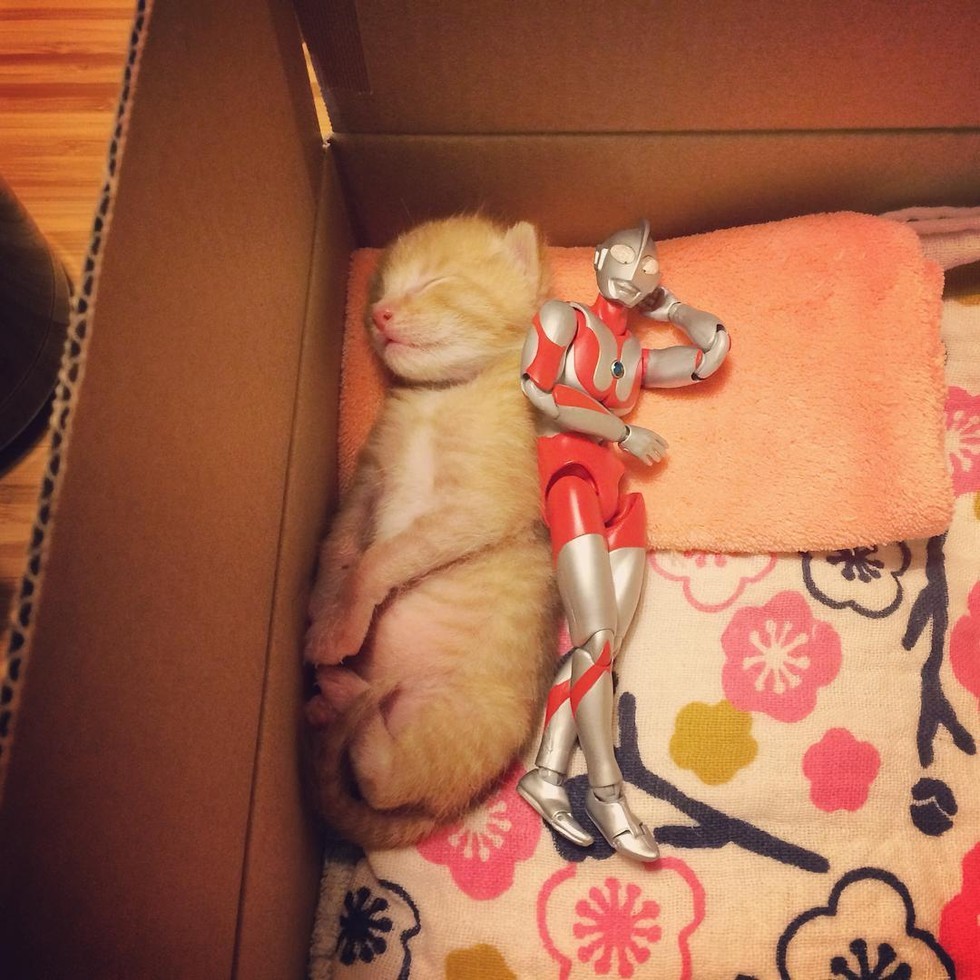 imgur.com
The family which adopted Koma wanted to make sure that she never feels lonely. Koma was abandoned by her siblings and needed Ultraman to take their place. Although, that's not the only reason why Ultraman is in all of Koma's pictures.
16. Documenting Growth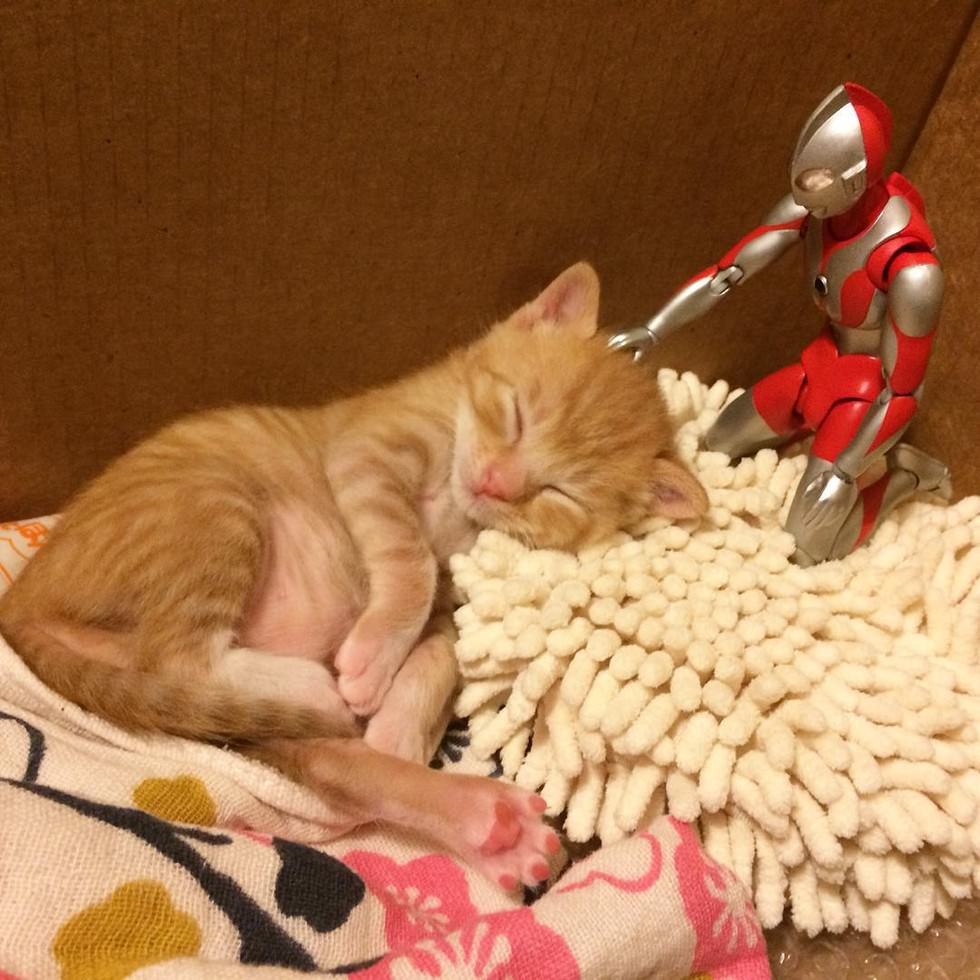 imgur.com
As previously mentioned, the family wants to document Koma's growth and Ultraman is there to make sure that all the pictures of Koma are cute! Not only that, but the superhero can also be used as a measuring unit to see how much Koma grows over the years. You won't believe how Ultraman and Koma like to have fun!!
15. Playing Around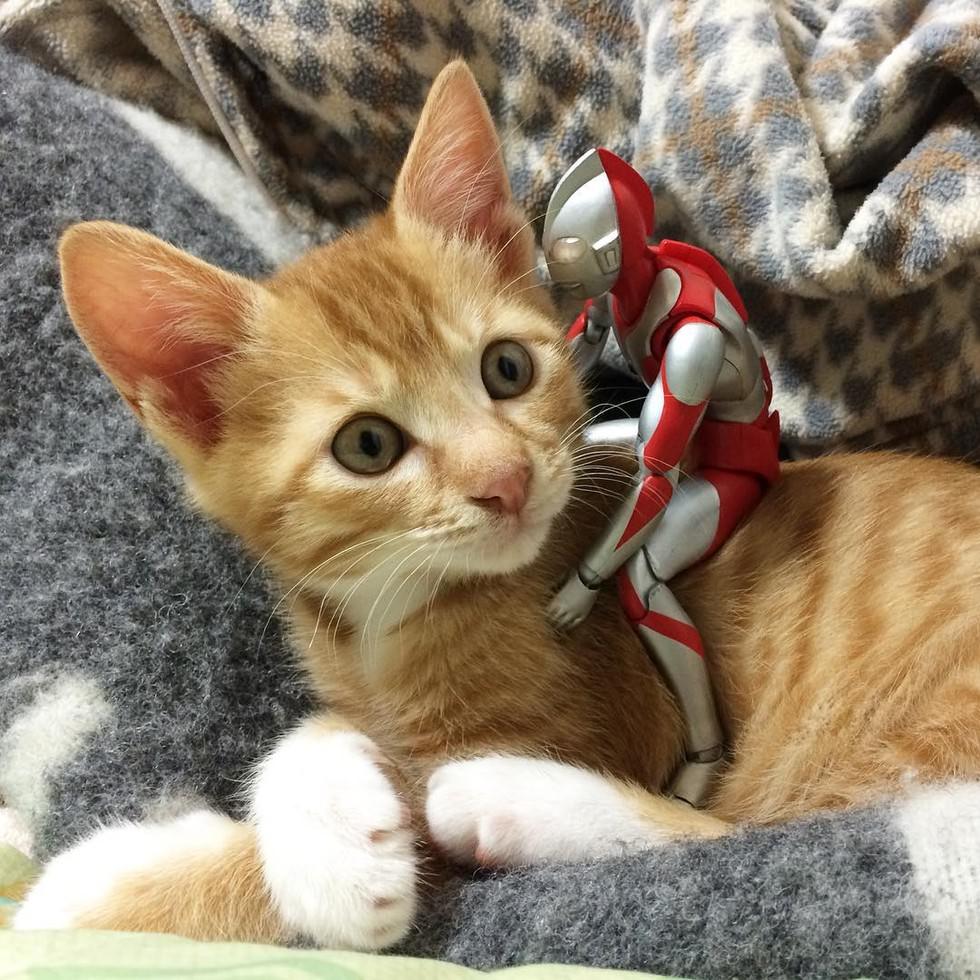 imgur.com
Since they spend all their time together, no one should be surprised to find out that their main activity is playing and hopping around all day long. This picture shows us how much fun Koma has when jumping around the house with Ultraman on her back. The upcoming picture is way too adorable to skip!
14. Too Adorable!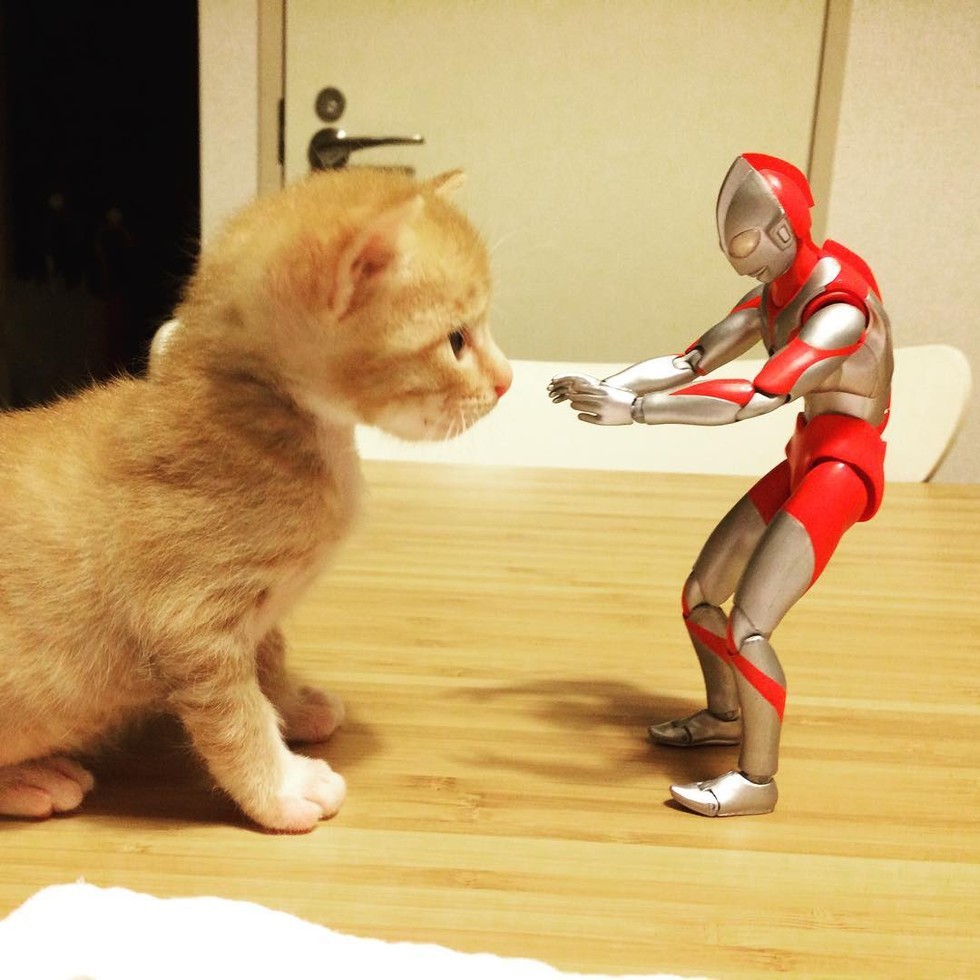 lovemeow.com
Aren't these two just way too adorable? This picture makes it look like Ultraman is teaching Koma something. What do you think Koma loves to do after playing with Ultraman?
13. Sweet Dreams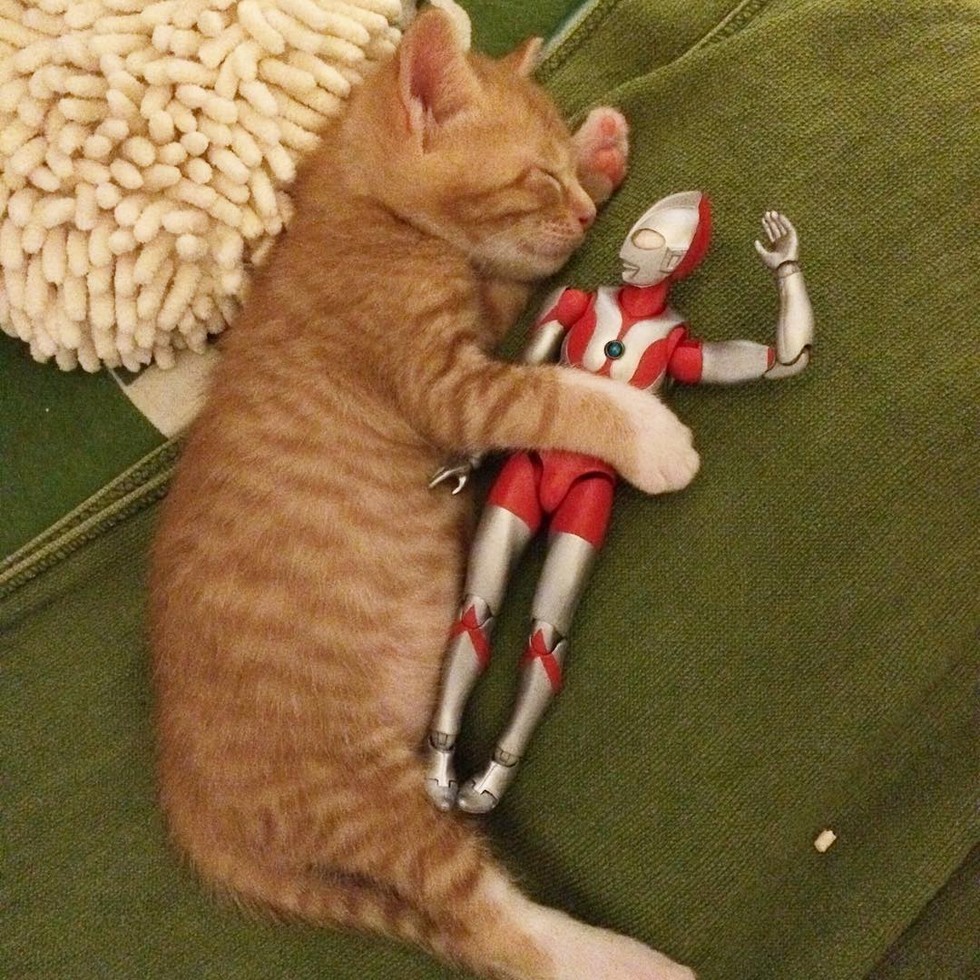 lovemeow.com
The one thing Koma loves to do more than to play with Ultraman all day long is to cuddle and sleep with the action figure. However, Koma was starting to get bigger. Would this ruin their friendship?
12. Getting Bigger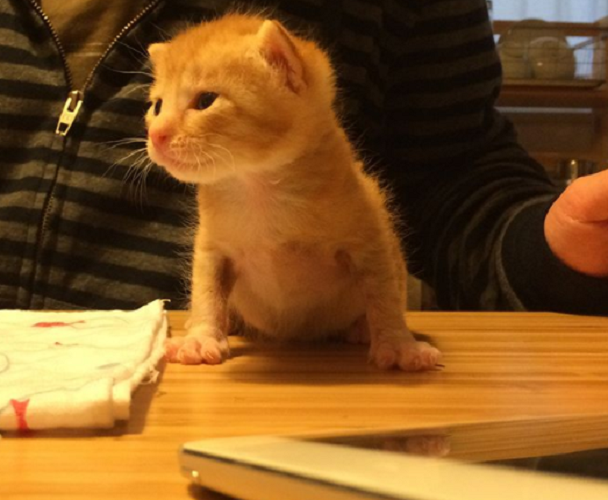 instagram.com
After a while, Koma started growing and she wasn't the tiny kitten that she used to be. What do you think this meant to her friendship with Ultraman who remained the same size?
11. Best Friends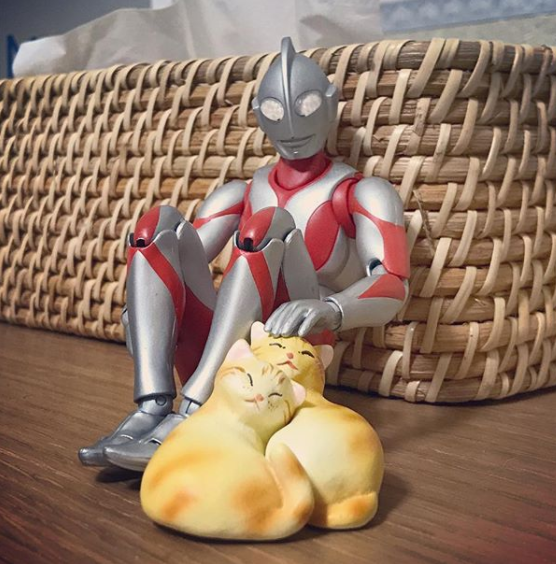 instagram.com
Even though Koma was getting bigger than Ultraman, she never forgot her best friend! This was amazing to see, especially since Koma's owners weren't expecting the kitten to keep playing with Ultraman as time went on. Check out the next picture to see the two together once again.
10. Staying Together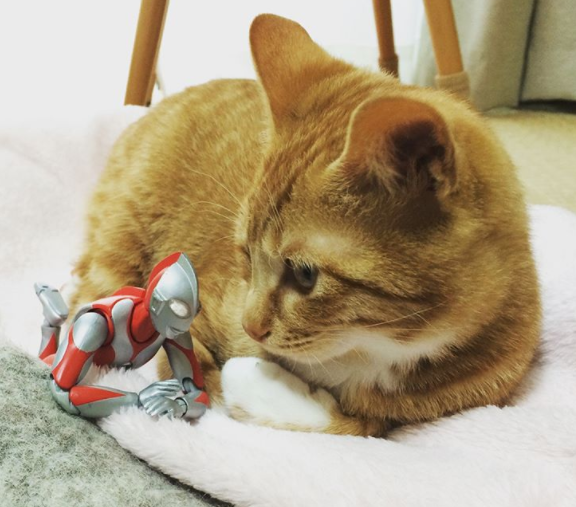 imgur.com
As you can clearly see, the size difference between the two friends is pretty big. However, they still love to spend time together and Koma hates it when Ultraman is not around. You won't believe how hilarious some of the pictures of Koma and Ultraman look! Keep reading and you will see what I am talking about.
9. Good Morning!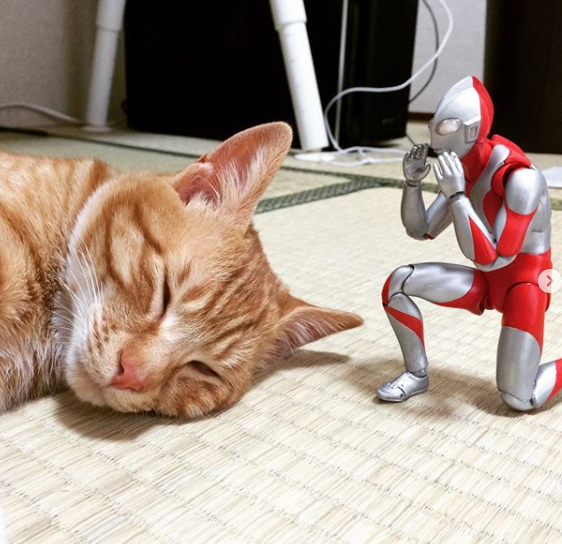 instagram.com
This picture makes it look like Ultraman is trying to wake up Koma and get her to play with him. Nonetheless, as time passed on Koma got bigger and bigger, but Ultraman stayed the same.
8. Not a Kitten Anymore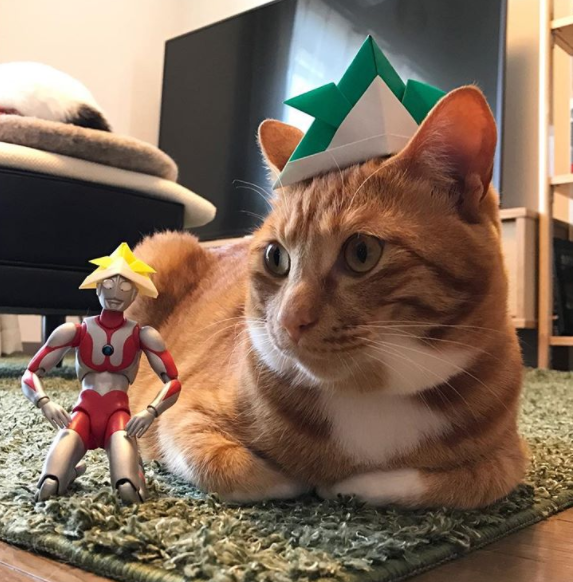 instagram.com
Time passed and Koma wasn't a small kitten anymore. Although, the size difference didn't matter because she still loved spending time with Ultraman. In fact, Koma invited Ultraman to her birthday! Keep reading to see them eating the birthday cake.
7. Birthday Cake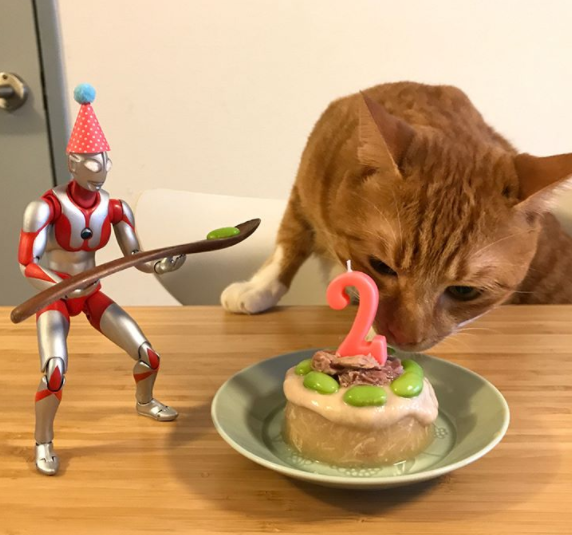 instagram.com
I bet that birthday cake was delicious! Do you think Ultraman came empty-handed to Koma's birthday? Check out the next picture to see what Ultraman brought her!
6. Chocolate Surprise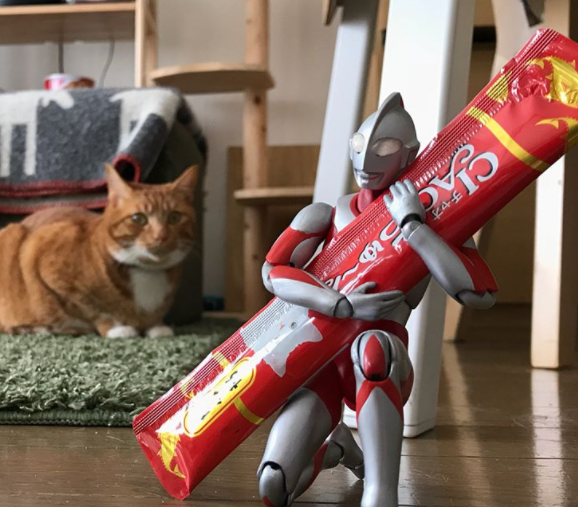 instagram.com
You can be sure that Koma was excited to receive this chocolate gift from Ultraman, just look at how she is watching from the back!
5. Full Grown Cat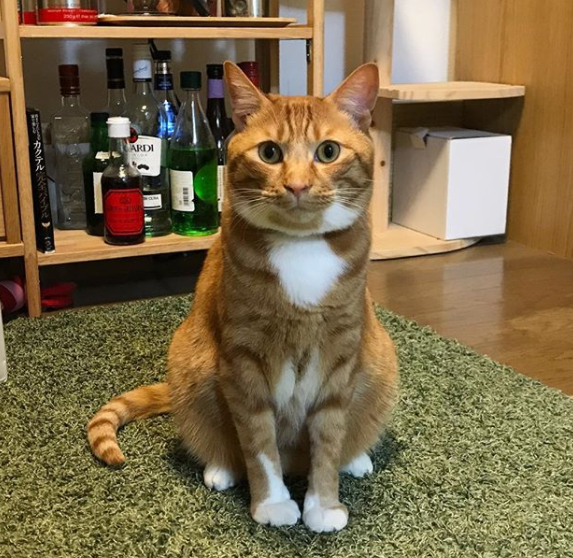 instagram.com
Now that Koma was a full grown cat, the family that adopted her decided to get another cat. This was great news for Koma because she was finally going to have a second friend. Click next to see Koma and her new friend.
4. New Friend
instagram.com
The white cat is Koma's new friend and as you can see, she enjoys her company. How do you think the new cat acted around Ultraman?
3. Cool Cat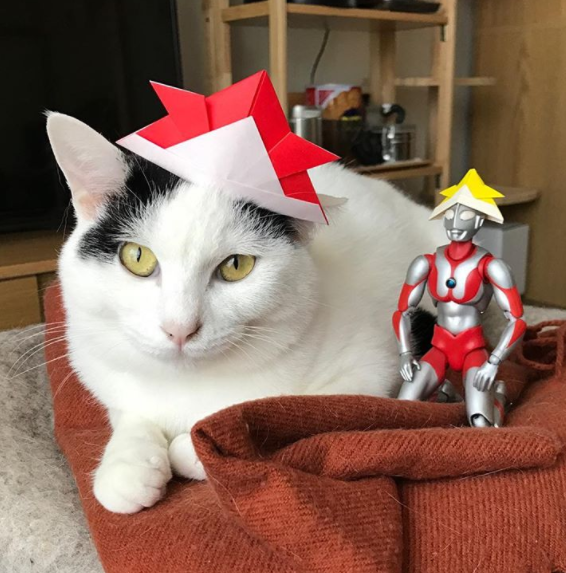 instagram.com
The new cat enjoyed Ultraman's presence as much as Koma did. In fact, the new cat loved taking pictures with Ultraman. The upcoming picture shows us how the three best friends spend their time together.
2. Three Best Friends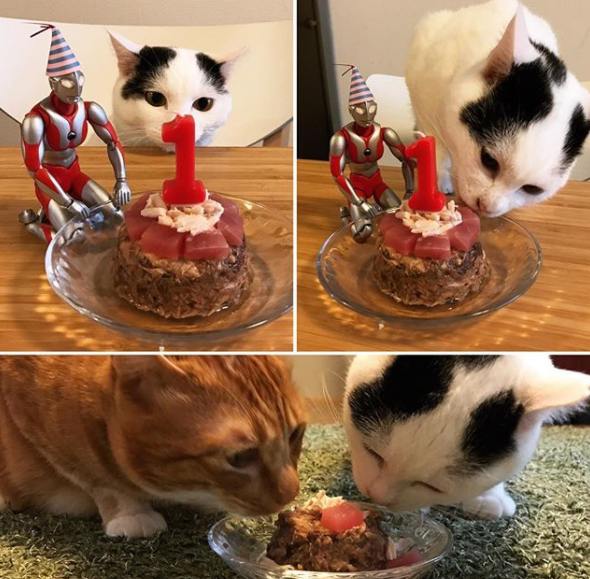 instagram.com
Another birthday, another birthday cake! The Japanese family must be happy with their decision to take Koma into their home because she and Ultraman definitely light up the mood anytime they are together.
1. Great Friendship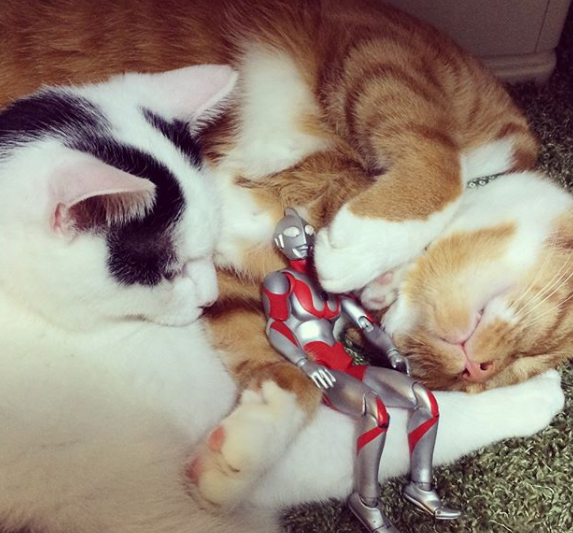 instagram.com
As I've already mentioned, friendship has no boundaries and these three friends prove that. Nonetheless, the Japanese family saved a kitten in need of help and the family is rewarded with some of the cutest pictures in exchange for their good deed.